SPORT PICKS


Thank you to OC16 for 32 years of telecasting OIA Football, Volleyball, Basketball, Soccer, Baseball, and Softball and MORE!
Check out the schedule on OC16's website: www.OC16.tv

NFHS/OIA Cross Country Invitational
NFHS/OIA Cross Country Invitational
(Wed) January 26, 2005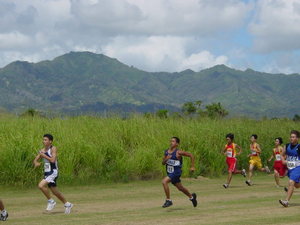 Seven hundred (700) student-athletes, from grades 6-12, representing 27 public and private middle and high schools on Oahu participated in an open invitational Cross Country Meet. The voluntarily solicited runner sponsor pledges totaled in excess of $5500, with 100% of all pledges collected being donated to Lanakila Rehabilitation Center.
The Oahu Interscholastic Association, in affiliation with the National Federation of High School Associations (NFHS), an organization which similarly promotes educational values of interscholastic athletics, sponsored this community service event on Saturday, September 11, 2004, at the Central Oahu Regional Park.
The OIA would like to express its sincere appreciation to the meet officials and volunteers for their fine efforts in conducting the meet and also commends the student-athletes, coaches and parents for their enthusiasm, citizenship, and display of school pride during this exciting, fun filled event. The Honolulu Marathon Association, Menehune Water, SportsLine, and Gatorade equally deserve special recognition for their contributions.
We are pleased to contribute our efforts in service to Hawaii's communities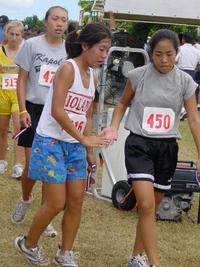 An Iolani JV Girl runner congratulates a Kapolei runner.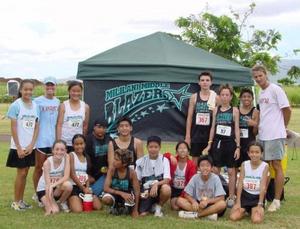 The Mililani Middle School Blazers

Copyright © 2007 The Oahu Interscholastic Association.
A Community Services Website Built and Hosted by
DataHouse
.